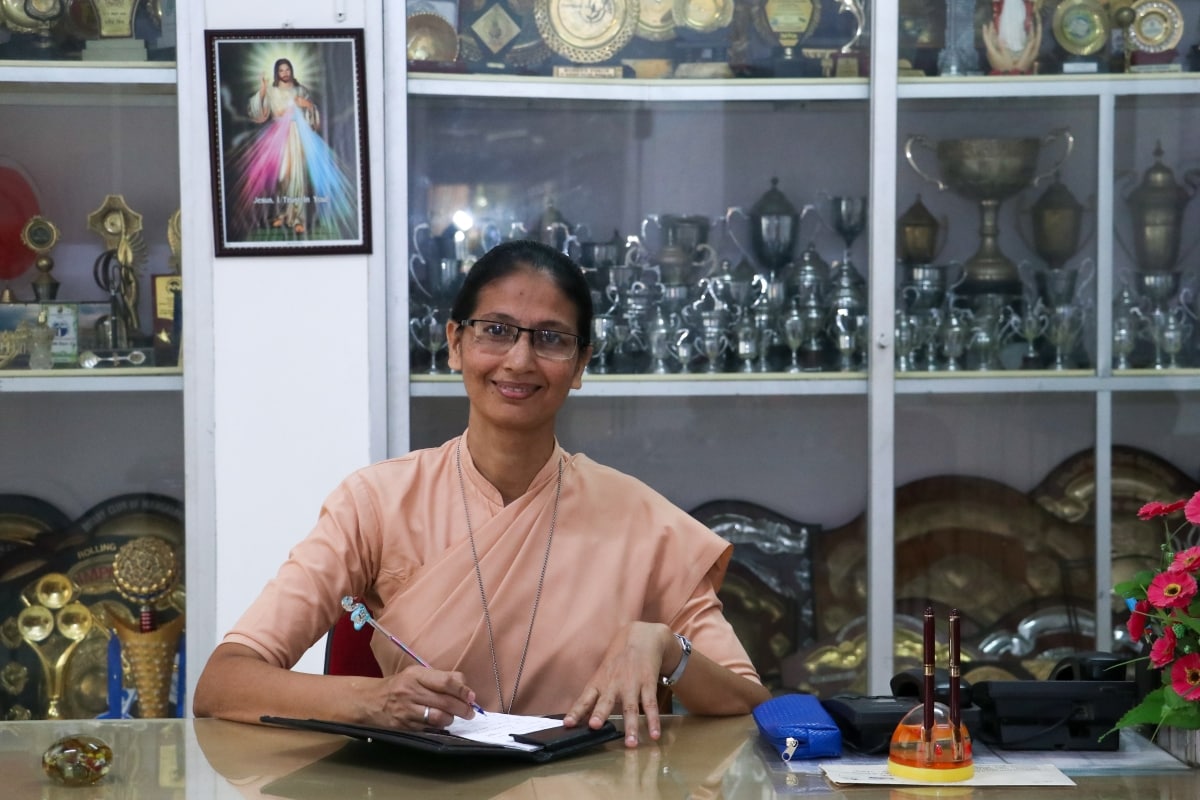 The year 2020-2021 is a Milestone in the history of St Agnes College (Autonomous) Mangaluru, as it completes 100 years of its existence. It is a significant event for all of us to celebrate 100 glorious years of service in the field of Women's Higher Education.
I deem it a privilege to welcome you all to St Agnes College – all the stakeholders, especially students, staff, parents, alumni, benefactors and well-wishers – to experience mutually the bond of love with the College as a 'Home of faith, a Home of fellowship and a Home of fruitful study' during this significant year.
St Agnes College was established by the Apostolic Carmel Congregation in the year 1921 by Mother Mary Aloysia of the Sacred Heart, in response to a felt need of the time for women's higher education. The College from its inception has imparted integral, value-based and quality education to women who in turn have occupied responsible service-based positions in the Home and Society by their leadership and rich contribution.
An extensive campus, especially the latest 'Mother Mary Aloysia Centenary Block' with the state of the art facilities, is an added asset for pursuing of Higher Education. The College is now fortunate in having a self containing "all inclusive" Library with better system of indexing, better control of Security and above all some improved surveillance on frequently changing knowledge. This has come handy when the College has been officially conferred the status of a 'Research Centre'. The opportunities presented through the help of modern library with various other amenities will benefit our staff and students a great deal by being able to produce masterpieces of their research work.
In our new facilities we have also added a luxurious auditorium and a fully air-conditioned Conference Hall where students and faculty members can arrange gatherings, have educational, cultural and social opportunities for greater interaction from the local to the international level.
Having been conferred Autonomy by the UGC in 2007, the College now conducts Post-graduate programmes for men and women, besides continuing programmes for women students at the undergraduate level.
Driven by the vision, mission and its motto "God is my Strength", St Agnes College lays emphasis on moral and spiritual formation, and preparing the capacities of our students for building a just society through various academic pursuits, research activities, community awareness and developmental programmes. The college is blessed to have a highly motivated and committed staff.
I pray that every young incumbent who takes admission to pursue higher education in this hallowed institution strives daily to grow and to enrich her/his all-round capacities as a person, and become a responsible beneficiary of education and shares her/his assets with the entire human family – Home, Country and the Global Society.
Sr Dr M. Venissa A.C.